---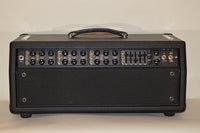 Top Jimi Mark 5 Pack for the Kemper Profiling Amplifier
Seeking to Recreate the Sound of: Mesa/Boogie Mark V (90 Watts)
Speakers Used During the Profiling Process: Celestion Vintage 30
Min to Max Gain Range (Scale: 0 to 10): 0 to 8
Profile Type: Studio (17 profiles) and Merged (14 profiles)
Jim's Comments: "The range of tones in this profile pack is incredible. From chimey cleans to tweed breakup to plexi tones to full metal overdrive, this pack covers it all." 
Mesa/Boogie Mark V Background Info: The Mesa/Boogie Mark V guitar amp head was built for versatility, and includes many of the tones created during the history of Mesa amplifiers. It features a plethora of options including 3 channels, three tonal families per channel, graphic EQ, support for EL34 or 6L6 power tubes, switchable output power range, and much more.
Top Jimi Enterprises, LLC is in no way affiliated with Mesa Engineering or Celestion International Ltd. Any mention of "Mesa/Boogie", "Mark V" or "Celestion" is strictly for comparison purposes.