---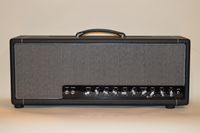 Top Jimi Stevens 100 Pack for the Kemper Profiling Amplifier
Seeking to Recreate the Sound of: Friedman SS-100 (Steve Stevens signature model) (100 Watts)
Speakers Used During the Profiling Process: Celestion 25W Greenback and Celestion Vintage 30
Min to Max Gain Range (Scale: 0 to 10): 0 to 8
Profile Type: Studio (10 profiles) and Merged (10 profiles)
Jim's Comments: "To me, these profiles are a perfect combination of vintage and modern guitar tone. The bottom end is tight. The profiles are dialed-in for humbucker-equipped guitars, but you can get great tone from single-coil guitars by reducing the Treble and Presence each by about 0.8."
Friedman SS-100 Background Info: Dave Friedman's first signature amplifier, the SS-100 was created to guitarist extraordinaire Steve Stevens' exacting tonal demands. The SS100 is a 100-watt, EL34 powered, two channel tone machine.
Customer Demo Video
Top Jimi Enterprises, LLC is in no way affiliated with Friedman Amplification or Celestion International Ltd. Any mention of "Friedman", "SS-100" or "Celestion" is strictly for comparison purposes.