---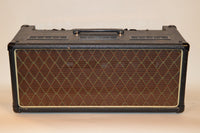 Top Jimi Modern AC 30 Pack for the Kemper Profiling Amplifier
Seeking to Recreate the Sound of: Late 2000's Vox AC30 CCH Head (30 Watts)
Speakers Used During the Profiling Process: Celestion 25W Greenback and Celestion Vintage 30
Gain Range (Scale: 0 to 10): 0 to 6
Profile Type: Studio (11 profiles) and Merged (9 profiles)
Jim's Comments: "These profiles are reminiscent of a classic 60's British combo, but with a touch more gain. We used ceramic speakers for a more modern sound. With these profiles you can easily dial up a very cool mix of classic and contemporary British tones, with a little more of a modern sound than the Alnico speaker-based '63 and '64 AC 30 packs."
Vox AC30 CCH Background Info: Vox offered the head version of the Custom Classic series, the AC30CCH, from 2005 to 2010. It features a similar chassis design to its predecessors, with all-tube circuitry including a quartet of EL-84 power tubes. Also included was a top boost circuit, tremolo, switches for output bias and smoothing capacitors, and a built-in spring reverb.
Top Jimi Enterprises, LLC is in no way affiliated with Vox Amplification Ltd. or Celestion International Ltd. Any mention of "Vox", "AC30" or "Celestion" is strictly for comparison purposes.