---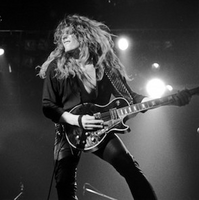 Top Jimi "Sykes" Pack for the Kemper Profiling Amplifier

Seeking to recreate John Sykes' tone heard on the 1987 Whitesnake and 1989 Blue Murder albums.
Amps Used During the Profiling Process: 1980s Mesa Boogie Mk III head
Speakers Used During the Profiling Process: 1980s Celestion G12-65

Gain Range (Scale: 0 to 10): 0 to 8

Profile Type: Studio (6 profiles) and Merged (6 profiles)

Jim's Comments: "The guitar on Whitesnake's 1987 album (including the song Still of the Night) is one of the greatest 1980s guitar moments. This pack captures that tone is all its glory. Also included is the tone from the 1989 Blue Murder album, which is similar but truer to the original amp tone. Pair a humbucker-equipped guitar with a neck pickup with these profiles, and your solos will never be the same (in a good way!)."

Please Note: Obviously, the guitar is a very important part of the signal chain, and differences between guitars will affect the tone. We used Jimi's 1954 Les Paul Standard with humbucker pickups as the reference to build the profiles. If your guitar has a fuller tone, we recommend increasing the Treble and Presence together. Try increasing them both by 0.3 and see how that sounds. If your guitar is bright, try reducing the Treble and Presence by 0.3 and go from there.



Top Jimi Enterprises, LLC is in no way affiliated with the products or artists mentioned above, Any mention of products or artists is strictly for comparison or descriptive purposes and a testament to their awesomeness.