---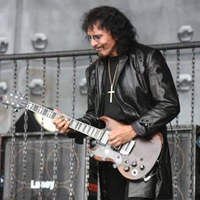 Top Jimi Sabbath Pack for the Kemper Profiling Amplifier
Seeking to recreate the sounds heard on various recordings and live performances of Tony Iommi of Black Sabbath
Amps/Pedals Used During the Profiling Process: 1970 Laney head, 1974 Lee Jackson modded Marshall head, Laney GH100TI Iommi Signature head, Mesa Boogie Mark V head (IIC+ mode), Engl Powerball head, Dallas Arbiter Rangemaster Treble Booster
Speakers Used During the Profiling Process: 1970 Celestion 25W G12M Greenback, 1970 Celestion 30W G12H Greenback
Min to Max Gain Range (Scale: 0 to 10): 6 to 8
Profile Type: Studio (19 profiles) and Merged (19 profiles)
Jim's Comments: "This pack contains the tones of the father of heavy metal -- Tony Iommi. Here's your chance to rock to Black Sabbath and Heaven and Hell with amazingly accurate guitar tone. Even if you're not a big Sabbath fan, this pack contains a wide array of fantastic vintage and modern hard rock guitar tones. Tony's career has spanned about 50 years, so covering even a portion of his tones over the years required the use of 5 different amp heads."
Please Note: Obviously, the guitar is a very important part of the signal chain, and differences between guitars will affect the tone. We used Jimi's 1957 Gibson Les Paul Special with original 1957 P90 pickups as the reference to build the profiles. There will very likely be differences in tone between your guitar and the reference guitar. If your guitar has a fuller tone, we recommend increasing the Treble and Presence together. Try increasing them both by 0.3 and see how that sounds. If your guitar is bright, try reducing the Treble and Presence by 0.3 and go from there.
Profiles Included in this Pack:
'70 N.I.B., '70 Paranoid, '70 War Pigs, '71 Sw Leaf, '72 Supernaut, '75 Hole Sky, '78 Never Die, '80 Heaven Hell, '81 Mob Rules, '81 Voodoo, '92 Comp God, '92 I, '98 Reunion, '07 Radio City, '09 Bible Black, '17 The End
Demo below recorded with a Kemper using the Sabbath Pack and drums/bass/vocal backing tracks found on YouTube.
Top Jimi Enterprises, LLC is in no way affiliated with Tony Iommi, Black Sabbath, Heaven and Hell, Laney Amplification, Marshall Amplification, Mesa Engineering, Engl, or Celestion. Any mention of their products is strictly for comparison purposes.