---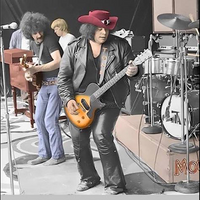 Top Jimi Mississippi Mountain Pack for the Kemper Profiling Amplifier
Seeking to recreate the sounds heard on various recordings and live performances by Leslie West of Mountain, including Mississippi Queen
Amp Used During the Profiling Process: 1970 Sunn Coliseum head
Speakers Used During the Profiling Process: 1973 Eminence 12" Alnico
Min to Max Gain Range (Scale: 0 to 10): 2 to 6
Profile Type: Studio (8 profiles) and Merged (8 profiles)
Jim's Comments: "This pack contains the tone that so many have tried to duplicate over the years -- Leslie West's Mississippi Queen tone. The overdrive is the definition of fat and organic tube nirvana. One of the most legendary guitar tones of all time."
Please Note: Obviously, the guitar is a very important part of the signal chain, and differences between guitars will affect the tone. We used Jimi's 1959 Gibson Les Paul Junior with original 1959 P90 pickups as the reference to build the profiles. There will very likely be differences in tone between your guitar and the reference guitar. If your guitar has a fuller tone, we recommend increasing the Treble and Presence together. Try increasing them both by 0.3 and see how that sounds. If your guitar is bright, try reducing the Treble and Presence by 0.3 and go from there.
Profiles Included in this Pack:
'69 Woodstock, '70 Imaginary Western, '70 Mississippi Queen, '70 Yasgur, '71 Flowers, '71 Nantucket, '71 Nantucket Clean, '74 Twin Peaks
Demo below recorded with a Kemper using the Mississippi Mountain Pack and drums/bass/keyboard backing tracks found on YouTube.
 Top Jimi Enterprises, LLC is in no way affiliated with Leslie West, Mountain, or Eminence Speaker LLC. Any mention of their products is strictly for comparison purposes.