---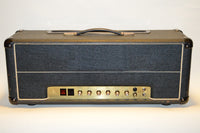 Top Jimi Caswell AFD Pack for the Kemper Profiling Amplifier
Seeking to Recreate the Sound of: Tim Caswell Modded 1978 Marshall Super Lead (100 Watts)
Speakers Used During the Profiling Process: 1967 Celestion 20W Greenback and Celestion Vintage 30
Min to Max Gain Range (Scale: 0 to 10): 6 to 8
Profile Type: Studio (8 profiles) and Merged (8 profiles)
Jim's Comments: "I'm extremely proud of these profiles.  I think this pack might be the best modded Marshall tone I've ever heard. I've used these profiles more than any others live. I think this would be my desert island amp."
Please note: This is not the Legendary Tones Slash pack, but rather a wide range of tones from a great amp. For super-accurate Slash tones, look for the Slash pack in the Legendary Tones section.
Tim Caswell Modded Marshall Super Lead: While working at SIR in Los Angeles during the 1980's, Tim performed the modification done to the amp rented by Slash (SIR #39) to record the Appetite for Destruction demos. The amp was rented out and unavailable for the recording of the album, so another very similar amp (#36) was substituted. Caswell-modified amps were also a favorite of Dokken's George Lynch. The #39 amp has been lost to time, but Tim has performed the same modification to other amps, including the one profiled to make this pack. The mod included an extra preamp tube for additional gain and other mods which gave the amp a much more aggressive tone than a stock Super Lead.
For more information on the original SIR #39 & #36 amps, go here.
Customer Demo Video
Top Jimi Enterprises, LLC is in no way affiliated with Tim Caswell, Marshall Amplification or Celestion International Ltd. Any mention of their products is strictly for comparison purposes and a testament to their awesomeness..