---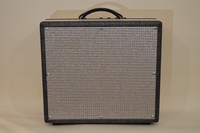 Top Jimi Black Majik Pack for the Kemper Profiling Amplifier
Seeking to recreate the sound of: Supro Black Magick combo (25 Watts)
Speakers Used During the Profiling Process: Supro BD12; early 70s Celestion G12M Greenback
Min to Max Gain Range (Scale: 0 to 10): 0 to 5
Profile Type: Studio (17 Profiles) and Merged (17 Profiles)
Jim's Comments: "This pack just exudes vintage cool! Some really great rock and roll tones to be had. The use of a second speaker (in addition to the stock one) gives additional tonal variation."
Supro Black Magick Background Info: The Black Magick is a modified Supro similar to the one loaned by Jimmy Page to the Rock and Roll Hall of Fame Museum. The amp uses the cabinet dimensions from a '59 Supro 2 x 10 and replaces the baffle with a 1 x 12 to house a custom, British voiced speaker that was specially developed for the Black Magick amp. The preamp found in the Black Magick features two channels wired in parallel, with independent volume controls and a single, shared tone control.
Top Jimi Enterprises, LLC is in no way affiliated with Absara Audio LLC or Celestion International Ltd. Any mention of "Supro", "Black Magick", "Celestion" or "Greenback" is strictly for comparison purposes.