---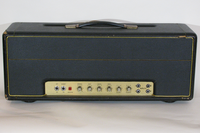 Top Jimi '74 Sup Ld Pack for the Kemper Profiling Amplifier
Seeking to Recreate the Sound of: 1974 Marshall Super Lead (100 Watts)
Speakers Used During the Profiling Process: Celestion 25W Greenback and Celestion Vintage 30
Min to Max Gain Range (Scale: 0 to 10): 0 to 7
Profile Type: Studio only (33 profiles)
Jim's Comments: "As far as gain, these profiles fall somewhere in between the '68 Sup Ld Pack and the '87 Jub Pack. It's a bit brighter than the '68 Sup Ld Pack as well, with more top-end bite. This is the sound of so many great classic rock records of the 1970's."
1974 Marshall Super Lead Background Info: The 1974 Super Lead maintained much of the character of it's 1960's predecessors, but featured more gain and a brighter overall character. The plexiglass panels found in the first Super Leads was replaced with an aluminum panel in 1968.
Top Jimi Enterprises, LLC is in no way affiliated with Marshall Amplification or Celestion International Ltd. Any mention of "Marshall", "Super Lead" or "Celestion" is strictly for comparison purposes.