---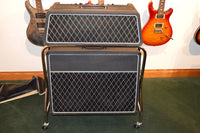 Top Jimi '64 AC 30 Sup Rev Twinn Pack for the Kemper Profiling Amplifier
Seeking to Recreate the Sound of: 1964 Vox AC30SRT (30 Watts)
Speaker Used During the Profiling Process: 12" Celestion AlNiCo
Min to Max Gain Range (Scale: 0 to 10): 0 to 6
Profile Type: Studio (10 profiles) and Merged (10 profiles)
Jim's Comments: "These profiles have a bit more gain and a little crisper high end than the British Combo Pack. They work great with single coils or humbuckers. There are profiles with plenty of gain for more modern styles as well as profiles with a more vintage vibe. Iconic guitar tone!"
1963 Vox AC30 Background Info: The 1964 Vox AC30SRT, known as the Super Reverb Twin, is a rather rare find. It featured factory Tremolo and Reverb, as well as Top Boost circuitry. It was not available in combo form, as the Vox reverb circuit was known to howl if subjected to too much vibration. Some have said this model was the best-sounding AC30 ever produced.
Top Jimi Enterprises, LLC is in no way affiliated with Vox Amplification Ltd. or Celestion International Ltd. Any mention of "Vox", "AC30", "AC15" or "Celestion" is strictly for comparison purposes.