---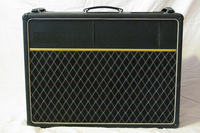 Top Jimi '63 AC 30 Pack for the Kemper Profiling Amplifier
Seeking to Recreate the Sound of: 1963 Vox AC30 (30 Watts)
Speaker Used During the Profiling Process: 12" Celestion AlNiCo
Min to Max Gain Range (Scale: 0 to 10): 0 to 6
Profile Type: Studio only (20 profiles)
Jim's Comments: "Love the classic, jangly tone of these profiles. They work great with single coils or humbuckers. One of the most iconic guitar tones of all time."
1963 Vox AC30 Background Info: The AC30 was introduced in 1958 to succeed the AC15 and meet the growing demand for louder amplifiers. Characterised by its "jangly" high-end sound it has become widely recognized by British musicians and others. The 1963 amp featured a tube rectifier, (2) EL-84 output tubes, was rated at 30W, and had a copper control panel. A top boost circuit was available as an add-on to increase gain and treble response.
Top Jimi Enterprises, LLC is in no way affiliated with Vox Amplification Ltd. or Celestion International Ltd. Any mention of "Vox", "AC30", "AC15" or "Celestion" is strictly for comparison purposes.