---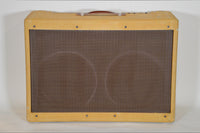 Top Jimi 59 Tweed BonaTwin Pack for the Kemper Profiling Amplifier
Seeking to Recreate the Sound of: 59 Fender Twin-Amp JB Edition (80 Watts)
Speaker Used During the Profiling Process: 12" Celestion JB85 Bonamassa Signature; 1970 12" Celestion Greenback
Min to Max Gain Range (Scale: 0 to 10): 0 to 8
Profile Type: Studio (22 profiles) and Merged (22 profiles)
Jim's Comments: "This is THE tweed tone! This pack has more available gain than the 59 Tweed Twinn Pack. We duplicated Joe's setup which includes a Way Huge Overrated Special overdrive on some profiles. This pack responds very well to rolling off the guitar volume to adjust gain (they don't get muddy). We profiled the amp using the original JB-85 speakers as well as my beloved 1970 25W Greenbacks to give two very distinct but great sounding tones at each gain setting. Joe can and has played anything -- but he chooses to play this amp. This amp (serial number JB00042) is staying in my personal collection." 
59 Fender Twin-Amp JB Edition Background Info: Designed to be a perfect recreation of Joe's favorite stage amp -- an original 1959 Fender 5F8-A Twin-Amp he bought from Steven Seagal. Only 150 have been produced so far (Joe has 6 of them). Features top-quality components, point-to-point wiring, and a pair of Bonamassa signature Celestion JB85 speakers.
Top Jimi Enterprises, LLC is in no way affiliated with Fender Musical Instruments Corporation, Celestion International Ltd, Dunlop Manufacturing Inc., or Joe Bonamassa. Any mention of "Fender", "Twin-Amp" or "Celestion" is strictly for comparison purposes.