---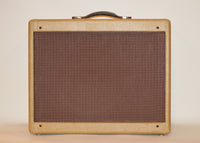 Top Jimi '59 Tweed Dlx Pack for the Kemper Profiling Amplifier
Seeking to Recreate the Sound of: 1959 Fender Deluxe (15 Watts)
Speakers Used During the Profiling Process: Jensen P12R and Celestion 25W Greenback
Min to Max Gain Range (Scale: 0 to 10): 0 to 6
Profile Type: Studio (12 profiles) and Merged (12 profiles)
Jim's Comments: "These profiles capture the unmistakable sound of the small late-50's tweed amps. The clean sound is absolutely stunning, and there's plenty of gain available on tap. The use of two types of speakers during the profiling process gives additional tonal flavors. Pair it with a Strat for vintage tonal nirvana." 

1959 Fender Deluxe Background Info: A relatively small amp, with a single 12" speaker and 15 Watts of output. The Tweed Deluxe is such a seminal amplifier, is so desirable and (in its original form) so expensive, that there are at least 30 or 40 companies making clones or variants of it, either as kits or as completed amplifiers.
Top Jimi Enterprises, LLC is in no way affiliated with Fender Musical Instruments Corporation, Jensen Loudspeakers, or Celestion International Ltd. Any mention of "Fender", "Deluxe", "Jensen" or "Celestion" is strictly for comparison purposes.