---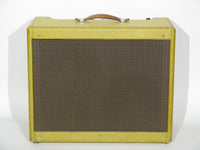 Top Jimi Tweed Sup Pack for the Kemper Profiling Amplifier
Seeking to Recreate the Sound of: 1950's Fender Super (18 Watts)
Speaker Used During the Profiling Process: 10" Jensen C10Q
Min to Max Gain Range (Scale: 0 to 10): 0 to 6
Profile Type: Studio only (17 profiles)
Jim's Comments: "The profiles were made using a ceramic speaker instead of the original alnico speaker. The higher-gain profiles have an extremely sweet and warm character, and clean up well using the guitar volume knob. I've gotten a good range of tones live using just one of these profiles, a pickup selector and a volume knob." 
Fender Super Amp Background Info: The original amp featured a tube rectifier, (2) 6L6 output tubes and was rated at approximately 18W. A fixed-bias output stage and split-phase inverters helped the Super overdrive more quickly than the Fender Bassman and produce a sound that, according to Vintage Guitar's Dave Hunter, "in the estimation of many a vintage-amp fan, is among the sweetest and most delectable of any amp ever made."
Note: This pack was previously known as "Low Power Tweed Pack #2".
Top Jimi Enterprises, LLC is in no way affiliated with Fender Musical Instruments Corporation or Jensen Loudspeakers. Any mention of "Fender", "Super", "Bassman" or "Jensen" is strictly for comparison purposes.