---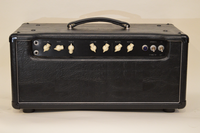 Top Jimi Match 30 Pack for the Kemper Profiling Amplifier
Seeking to recreate the sound of: Matchless HD-30 Head (30 Watts)
Speakers Used During the Profiling Process: Early 70s Celestion G12M Greenback; 1970 Celestion G12H-25 Greenback
Min to Max Gain Range (Scale: 0 to 10): 0 to 6
Profile Type: Studio (10 Profiles) and Merged (10 Profiles)
Jim's Comments: "This pack offers a more modern take on vintage 30W British amp tones (like a Vox AC30), as well as higher gain grit and drive. Useful for anything from country to blues to heavy rock. The profiles work great with either single coil or humbucker pickups. Great tones to be had!"
Matchless HC-30 Background Info: The HC-30 is the head version of the DC-30 combo. Channel 1 of this boutique 2-channel head is voiced like a Vox AC30 on steriods. Channel 2 is a bit more modern, with more gain and grit.
Top Jimi Enterprises, LLC is in no way affiliated with Matchless Amplifiers or Celestion International Ltd. Any mention of "Matchless", "HC-30", "DC-30", "Celestion" or "Greenback" is strictly for comparison purposes.