---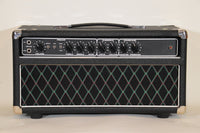 Top Jimi Dummble Pack for the Kemper Profiling Amplifier
Seeking to Recreate the Sound of: Ceriatone Overtone Special (100 Watts)
Speaker Used During the Profiling Process: 12" Celestion Vintage 30; 1970 12" Celestion 25W Greenback; 1967 12" Celestion 20W Greenback
Min to Max Gain Range (Scale: 0 to 10): 0 to 8
Profile Type: Studio (54 profiles) and Merged (53 profiles)
Jim's Comments: "This is a Mega pack! The preamp of the amp used for the profiling has so many great-sounding options we got a little carried away. I love the fullness of these profiles. The low end is full but not flabby. The highs are sweet and not harsh. The Overdrive channel profiles are fantastic for anything rock. The normal channel does Clean to Semi-Overdrive to a cool Hendrixy vibe when at full volume. Really great pack!" 
Ceriatone Overtone Special Background Info: The Ceriatone Overtone Special 100 represents Ceriatone's personal take on one of the most famous (and expensive) guitar amplifiers of all-time. 3 12AX7 preamp tubes with 4 EL34 power tubes. Preamp options include two channels (Normal and Overdrive), Normal/FET inputs, Bright, Mid and Rock/Jazz switches, Preamp Boost Switch.
Customer Demo Video
Top Jimi Enterprises, LLC is in no way affiliated with CeriaTone Amplification, Dumble Amplifiers, or Celestion International Ltd. Any mention of "Ceriatone", "Dumble", "Overtone Special" or "Celestion" is strictly for comparison purposes.