---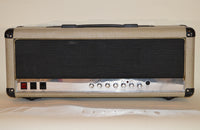 Top Jimi '87 Jub Pack for the Kemper Profiling Amplifier
Seeking to Recreate the Sound of: 1987 Marshall Silver Jubilee 2555 (100 Watts)
Speakers Used During the Profiling Process: Celestion Vintage 30
Min to Max Gain Range (Scale: 0 to 10): 0 to 8
Profile Type: Studio (11 profiles) and Merged (11 profiles)
Jim's Comments: "The tone of these profiles is a bit of a hybrid between an old British stack and a more modern British offering. You can summon the tones of some high profile players like Slash, Joe Bonamassa, and John Frusciante (Red Hot Chili Peppers)." 
1987 Marshall Silver Jubilee 2555 Background Info: The Silver Jubilee amps were designed to celebrate Marshall's 25th anniversary and Jim Marshall's 50th year in music. The 2555 100W head was the flagship of the Jubilee line, and original specimens have become highly collectible -- for good reason. No other Marshall sounds quite like it.
Customer Demo Videos
Top Jimi Enterprises, LLC is in no way affiliated with Marshall Amplification or Celestion International Ltd. Any mention of "Marshall", "Silver Jubilee" or "Celestion" is strictly for comparison purposes.