---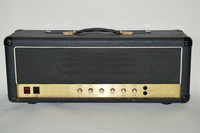 Top Jimi '82 JC 800 Pack for the Kemper Profiling Amplifier
Seeking to recreate the sound of: All-Original 1982 Marshall JCM 800 (100 Watts)
Speakers Used During the Profiling Process: Celestion Vintage 30 and Celestion 25W Greenback
Min to Max Gain Range (Scale: 0 to 10): 0 to 8
Profile Type: Studio (12 profiles), Merged (11 profiles)
Jim's Comments: "If you want the sound which has probably been used on more rock recordings than any other, then this is your pack. More gain and low end available than most of our other British-inspired packs. This pack will give you a fantastic platform for any style of music which requires light through heavy overdrive."
Marshall JCM800 2203 Background Info: Introduced in 1981, the JCM 800 line became the bedrock amp for 80's rock guitar tone. The name comes from Jim Marshall's initials, "J.C.M.", coupled with the meaningless "800" from the number plate on his car. The amp uses 3 12AX7 preamp tubes and 4 EL34's in the power section, and produces more preamp gain than previous Marshall offerings.
Top Jimi Enterprises, LLC is in no way affiliated with Marshall Amplification or Celestion International Ltd. Any mention of "Marshall", "JCM800" or "Celestion" is strictly for comparison purposes.