---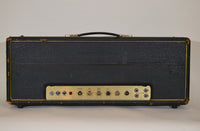 Top Jimi '68 Sup Ld Pack for the Kemper Profiling Amplifier
Seeking to Recreate the Sound of: 1968 Marshall Super Lead (100 Watts)
Speakers Used During the Profiling Process: Celestion 25W Greenback and Celestion Vintage 30
Gain Range (Scale: 0 to 10): 0 to 7
Profile Type: Studio (12 profiles), Merged (11 profiles)
Jim's Comments: "I think Marshall perfected the Super Lead in 1968, and these profiles capture that tone. These are some of my favorite rock profiles, and I've used them a ton. You can hear these profiles on the Ninja Sex Party cover of Jump off their album Under the Covers." 
1968 Marshall Super Lead Background Info: Marshall Super Lead Model 1959, the original Plexi, was born in 1965. The 100 W version features (4) EL-34 output tubes and either 4 or 8 12" Celestion speakers. The 1968 model features more gain than previous models and slightly more high end. The early Van Halen recordings were made with a stock 1968 Super Lead.
Customer Demo Videos
Studio Recording using '68 SLead Med Profile
Top Jimi Enterprises, LLC is in no way affiliated with Marshall Amplification or Celestion International Ltd. Any mention of "Marshall", "Super Lead" or "Celestion" is strictly for comparison purposes.