---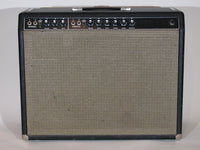 Top Jimi '64 VibVerb Pack for the Kemper Profiling Amplifier
Seeking to Recreate the Sound of: 1964 Fender Vibroverb (40 Watts)
Speakers Used During the Profiling Process: 15" Jensen Ceramic, 25W Celestion Greenback
Min to Max Gain Range (Scale: 0 to 10): 0 to 4
Profile Type: Studio (10 profiles), Merged (7 profiles)
Jim's Comments: "These profiles feature juicy cleans and just the right amount of blackface-like breakup at medium to high volume. We used a vintage 15" Ceramic Jensen as well as 25W Greenbacks during profiling for a wide range of tones. If you want to play Texas blues, you gotta try these profiles!"
1964 Fender Vibroverb Background Info: The Vibroverb was only produced from 1963-1964 and thus production numbers were very low (around 1500). The '64 model used a single tube recifier, two 6L6GC output tubes, and a single 15" JBL or Jensen speaker. This is of course the amp used by Stevie Ray Vaughan during much of his career. The amp's rarity and association with SRV make them very collectable.
Customer Demo Videos
Top Jimi Enterprises, LLC is in no way affiliated with Fender Musical Instruments Corporation, JBL, Jensen Loudspeakers, or Celestion International Ltd. Any mention of "Fender", "Vibroverb", "JBL", "Jensen" or "Celestion" is strictly for comparison purposes.