---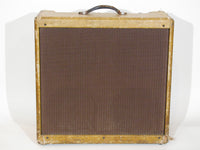 Top Jimi '59 Tweed Bass Man Pack for the Kemper Profiling Amplifier
Seeking to Recreate the Sound of: 1959 Fender 5F6-A Bassman (40 Watts)
Speaker Used During the Profiling Process: Vintage 10" Jensen AlNiCo
Min to Max Gain Range (Scale: 0 to 10): 0 to 4
Profile Type: Studio (10 profiles) and Merged (8 profiles)
Jim's Comments: "The profiles include my very favorite clean tone, which is extremely complex and rich with harmonic overtones. The profiles are bright and have a good amount of gain, especially for vintage-sounding profiles. Profiles were done which give the sound of both the "Bright" and "Normal" amp channels at each gain setting." 
1959 Fender 5F6-A Bassman Amp Background Info: The 5F6-A Bassman is one of the most highly-regarded and collectible amps of all time. The amp was used as the starting point for Marshall when they designed their first amplifier. The amp features a tube rectifier, (2) 6L6 output tubes and is rated at 40W.
Customer Demo Video
Top Jimi Enterprises, LLC is in no way affiliated with Fender Musical Instruments Corporation, Marshall Amplification, or Jensen Loudspeakers. Any mention of "Fender", "Bassman", "Marshall" or "Jensen" is strictly for comparison purposes.