---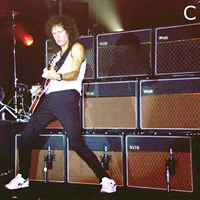 Top Jimi Queen Pack for the Kemper Profiling Amplifier
Seeking to recreate the sound heard on the recordings of the rock band Queen
Speaker Used During the Profiling Process: 12" Celestion Alnico Blue
Min to Max Gain Range (Scale: 0 to 10): 0 to 7
Profile Type: Studio (27 profiles) and Merged (27 profiles)
Jim's Comments: "Brian May from Queen crafted what may be the most instantly-recognizable guitar tone anywhere. His rig is sinple, but the microphone techniques required to mimic the studio tones are not. Even if you aren't a Queen fan, plugging your guitar into Brian May's rig gives the biggest AC30 tone you've ever experienced. So much fun to play!"
Please Note: Obviously, the guitar is a very important part of the signal chain, and differences between guitars will affect the tone. We used a Red Special from Brian May Guitars as the reference to build the profiles. We also included profiles which have been EQ'd for use with Gibson-style P90 pickups and Fender-style single coils. If your guitar has a full tone, we recommend increasing the Treble and Presence together. Try increasing them both by 0.3 and see how that sounds. If your guitar is bright, try reducing the Treble and Presence by 0.3 and go from there.
Signal Path: Guitar --> Cable --> Vox Brian May Limited Edition AC30 (treble booster built in)
Profile Naming Decoder:
RSpec = Use for a Red Special guitar or if you just want to plug your axe into Brian May's rig
P90 = EQ'd for P90-style pickups
Strat = EQ'd for Fender-style single coil pickups
All guitar tones heard on the following demo were recorded with a Kemper using the Queen Pack and drums/bass/vocal backing tracks found on YouTube.
Top Jimi Enterprises, LLC is in no way affiliated with the band Queen, Brian May, Vox Amplification Ltd., or Celestion International Ltd. Any mention of "Queen", "Brian May", "Vox", "AC30", or "Celestion" is strictly for comparison purposes.