---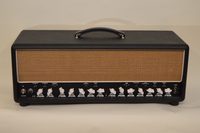 Top Jimi Ecstatic Pack for the Kemper Profiling Amplifier
Seeking to recreate the sound of: Bogner Ecstasy 101B Head (120 Watts)
Speakers Used During the Profiling Process: Early 70s Celestion G12M Greenback; Celestion Vintage 30
Min to Max Gain Range (Scale: 0 to 10): 0 to 8
Profile Type: Studio (24 Profiles) and Merged (22 Profiles)
Jim's Comments: "This pack offers incredible tonal versatility. We had a lot of fun with the low gain channel by putting it in Class A mode and cranking up the power amp for smooth, musical cleans and overdrives. The mid gain channel offers incredibly useful overdrives for many genres. The high gain channel is perfect for heavy riffing or lead work. This pack even offers convincing Plexi tones."
Bogner Ecstasy 101B Background Info: The Ecstasy amplifier offers an incredible number of tonal options in one package. In addition to the usual EQ, gain and volume knobs, the Ecstasy includes selections for class A or A/B power amp, half power switch, EL-34 (120W) or 6L6 (100W) power tubes, 3 channels, Plexi mode, and various gain and EQ contour switches.
Top Jimi Enterprises, LLC is in no way affiliated with Bogner Amplification or Celestion International Ltd. Any mention of "Bogner", "Ecstacy", "101B", "Celestion" or "Greenback" is strictly for comparison purposes.