---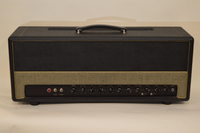 Top Jimi Cantrell 100 Pack for the Kemper Profiling Amplifier

Seeking to Recreate the Sound of: Friedman JJ-100 Jerry Cantrell Signature Head (100 Watts)
Speakers Used During the Profiling Process: Celestion Vintage 30 and 1970 Celestion 25W Greenback
Min to Max Gain Range (Scale: 0 to 10): 0 to 8
Profile Type: Studio (20 profiles) and Merged (19 profiles)
Jim's Comments: "The word 'massive' comes to mind when playing these profiles. The amp used to make these profiles is perfectly dialed in for huge-sounding heavy riffing. The cleans are reminiscent of a Vox AC-30 set at low-to-mid volumes. These profiles work equally-well with humbucker or single-coil pickups. Love this pack!"
Friedman JJ-100 Background Info: The JJ-100 is a 100-Watt, two channel, EL34-powered beast. The overdrive channel includes a selection for 'BE' or 'JBE' modes, with BE being similar to other Friedman amps and JBE providing higher gain and a special tonal voice specific to this amp.
Customer Demo Videos
Top Jimi Enterprises, LLC is in no way affiliated with Friedman Amplification or Celestion International Ltd. Any mention of "Friedman", "JJ-100" or "Celestion" is strictly for comparison purposes.