---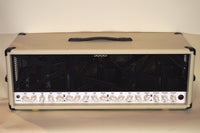 Top Jimi 5051 Profile Pack for the Kemper Profiling Amplifier
Seeking to Recreate the Sound of: EVH 5150 III (100 Watts)
Speakers Used During the Profiling Process: 1967 Celestion 20W Greenback (with Pulsonic cone) and Celestion Vintage 30
Min to Max Gain Range (Scale: 0 to 10): 0 to 9
Profile Type: Studio (26 profiles) and Merged (26 profiles)
Jim's Comments: "These profiles deliver everything from Blackface-like cleans to really modern overdrive. A great choice for today's player."
EVH 5150 III Background Info: This Fender-designed-and-built head is a 3-channel, 100W monster that delivers everything from smooth Fender cleans to molten-metal overdrive. The old 20W Celestion Greenback is what the EVH Celestion is modeled after.
Top Jimi Enterprises, LLC is in no way affiliated with Fender Musical Instruments Corporation, E.L.V.H. Inc. or Celestion International Ltd. Any mention of "Fender", "EVH", "5150" or "Celestion" is strictly for comparison purposes.