---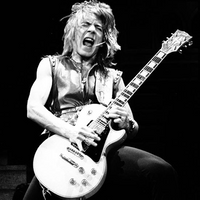 Top Jimi Ozzy Pack for the Kemper Profiling Amplifier
Seeking to recreate the sound heard on the recordings of the hard rock artist Ozzy Osbourne
Amps/Pedals Used During the Profiling Process: Various vintage Marshall heads, MXR Distortion+, MXR 10-Band EQ, Boss OD-1 Overdrive, Boss SD-1 Super Overdrive
Speakers Used During the Profiling Process: 12" Altec Lansing 417, 12" Electro-Voice EVM12L, 12" Celestion Creamback 65
Min to Max Gain Range (Scale: 0 to 10): 0 to 8
Profile Type: Studio (24 profiles) and Merged (24 profiles)
Jim's Comments: "This pack contains the tones of Ozzy's three most important guitarists -- Randy Rhoads, Jake E. Lee, and Zakk Wylde. Here's your chance to rock to Ozzy with an amazingly accurate guitar tone. Even if you're not a big Ozzy Osbourne fan, this pack contains a wide array of fantastic hard rock guitar tones. All aboard!!!"
Please Note: Obviously, the guitar is a very important part of the signal chain, and differences between guitars will affect the tone. We used Jimi's 1954 Gibson Les Paul Standard (modified with original 1950's Gibson PAF pickups) as the reference to build the profiles. There will very likely be differences in tone between your guitar and the reference guitar. If your guitar has a fuller tone, we recommend increasing the Treble and Presence together. Try increasing them both by 0.3 and see how that sounds. If your guitar is bright, try reducing the Treble and Presence by 0.3 and go from there.
Tones Included in this Pack:
Randy: Blizzard of Ozz, Diary of a Madman, Tribute
Jake: Bark at the Moon, Ultimate Sin, Badlands
Zakk: No Rest for the Wicked, Live 1989, No More Tears, Ozzmosis, Down to Earth, Live at Budokan, Black Rain
Demo below recorded with a Kemper using the Ozzy Pack and drums/bass/vocal backing tracks found on YouTube.
Customer Demo Videos
Top Jimi Enterprises, LLC is in no way affiliated with Ozzy Osbourne, Randy Rhoads, Jake E. Lee, Zakk Wylde, Marshall Amplification, Roland Corporation, Dunlop Manufacturing, Inc. (MXR), Altec Lansing/AL Infinity, LLC, Electro-Voice, or Celestion International Ltd. Any mention of "Ozzy Osbourne", "Randy Rhoads", "Jake E. Lee", "Zakk Wylde", "MXR", "Distorion+", "Boss", "OD-1", "SD-1", "Altec Lansing", "Electro-Voice", "EVM12L" or "Celestion" is strictly for comparison purposes.