---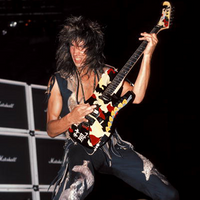 Top Jimi "Lynch" Pack for the Kemper Profiling Amplifier

Seeking to recreate the sound heard on George Lynch's classic albums with Dokken and Lynch Mob during the years 1983 - 1992.
Amps Used During the Profiling Process: 1974 Marshall Super Lead, 1980s Randall RG-80, Tim Caswell AFD-Modded 1978 Marshall Super Lead, Soldano SLO-100, Reissue 1967 Marshall Super Lead
Speakers Used During the Profiling Process: 1967 Celestion 20W 75Hz Greenback, 1970 Celestion 25W 75Hz Greenback, 1970 Celestion 25W 55Hz Greenback, Vintage Celestion G12-65, 1970 Celestion G12-H 30 55Hz Greenback

Gain Range (Scale: 0 to 10): 0 to 6

Profile Type: Studio (25 profiles) and Merged (25 profiles)

Jim's Comments: "George is one of the most important of the 1980s rock gods. He's still active today, but we stopped with his 1992 Lynch Mob album (we had to stop somewhere or we'd never finish!). The pack includes Marshalls, a Soldano, and even a solid-state Randall rig (sounds killer). The rigs all sound significantly different from one another because George never used the same combination of drive pedal, amp and speaker twice. This pack contains a wide range of absolutely killer rock tone."

Please Note: Obviously, the guitar is a very important part of the signal chain, and differences between guitars will affect the tone. We used one of Jimi's Charvel clones with Lindy Fralin Pure PAF pickups as a reference to build the profiles. If your guitar has a fuller tone, we recommend increasing the Treble and Presence together. Try increasing them both by 0.3 and see how that sounds. If your guitar is bright, try reducing the Treble and Presence by 0.3 and go from there.

Album Tones Profiled:

Dokken: Breaking the Chains ('83), Tooth and Nail ('84), Under Lock and Key ('86)
Back for the Attack ('87), Beast from the East ('88)
Lynch Mob: Wicked Sensation ('90), Lynch Mob ('92)

Customer Demo Video
Top Jimi Enterprises, LLC is in no way affiliated with the products or artists mentioned above, Any mention of products or artists is strictly for comparison or descriptive purposes and a testament to their awesomeness.