---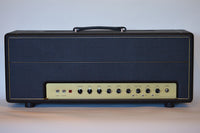 Top Jimi BEye Pack for the Kemper Profiling Amplifier
Seeking to Recreate the Sound of: Friedman BE-100 Brown Eye (100 Watts)
Speakers Used During the Profiling Process: Celestion Vintage 30 and '67 Celestion 20W Greenback
Min to Max Gain Range (Scale: 0 to 10): 0 to 9
Profile Type: Studio (18 profiles) and Merged (18 profiles)
Jim's Comments: "These profiles are modern and detailed, but maintain a bit of a vintage British sound. The bottom end is very tight and the mids are focused -- perfect for cutting through a mix. The profiles are dialed-in for humbucker-equipped guitars, but like most of our profiles you can get great tone from single-coil guitars by reducing the Treble and Presence."
Friedman BE-100 Background Info: The BE-100 is a 100-watt, EL34-powered monster with 3 channels (Clean, BE, & HBE). Several switches, including a three-position bright switch, give additional tonal options. The amp received the prestigious Editor's Pick Award from Guitar Player Magazine (Nov, 2013).
Customer Demo Videos
Top Jimi Enterprises, LLC is in no way affiliated with Friedman Amplification or Celestion International Ltd. Any mention of "Friedman", "BE-100", "Brown Eye" or "Celestion" is strictly for comparison purposes.