---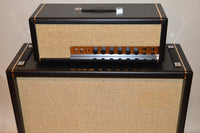 Top Jimi Offset JT 45 Reissue Pack for the Kemper Profiling Amplifier
Seeking to recreate the sound of: Limited-edition Marshall JTM45 Offset reissue (30 Watts)
Speakers Used During the Profiling Process: Celestion 15W Alnico and Celestion 25W Greenback
Min to Max Gain Range (Scale: 0 to 10): 0 to 6
Profile Type: Studio (18 Profiles) and Merged (18 Profiles)
Jim's Comments: "These profiles are reminiscent of an old Bassman, but with a bit more mid-range grunt. We profiled with Alnico and ceramic speakers to give very early and more modern British-flavored tones. This pack will give you a fantastic platform for rock and blues playing."
Marshall Offset JTM45 Background Info: In early 2000, Marshall Amplification decided to reissue the rarest amplifier the company had ever produced -- the offset JTM45 half stack of which only three were made back in 1962. 300 of the reissue amps were produced, and sold out before they were shipped. The amp consists of the offset-chassis JTM45 head and 4 x 12 offset speaker cabinet with a semi-openback design and four 12" Alnico Celestion speakers.
Top Jimi Enterprises, LLC is in no way affiliated with Marshall Amplification or Celestion International Ltd. Any mention of "Marshall", "JTM45" or "Celestion" is strictly for comparison purposes.