---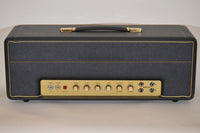 Top Jimi JT 45 Reissue Pack for the Kemper Profiling Amplifier
Seeking to Recreate the Sound of: Marshall reissue JTM45 (30 Watts)
Speakers Used During the Profiling Process: Celestion 25W Greenback
Min to Max Gain Range (Scale: 0 to 10): 0 to 6
Profile Type: Studio (18 profiles) and Merged (18 profiles)
Jim's Comments: "These profiles give the sweet, organic tones you'd expect from an early plexi amplifier, with a slightly more modern feel. A little darker sounding than the Hendrix Sup 100 Pack."
Marshall Reissue JTM45 Background Info: The JTM45 goes back to the earliest days of Marshall. The design draws heavily from the '59 Fender Bassman, and has a raw sound with less gain than later Marshalls. The tube recifier and KT-66 output tubes help differentiate the sound of this amp.
Customer Demo Video
Top Jimi Enterprises, LLC is in no way affiliated with Marshall Amplification or Celestion International Ltd. Any mention of "Marshall", "JTM45" or "Celestion" is strictly for comparison purposes.