---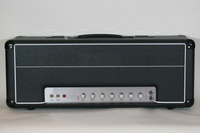 Top Jimi AFD Pack for the Kemper Profiling Amplifier
Seeking to Recreate the Sound of: Marshall AFD100 (Slash signature model) (100 Watts)
Speakers Used During the Profiling Process: Celestion 25W Greenback and Celestion Vintage 30
Min to Max Gain Range (Scale: 0 to 10): 0 to 8
Profile Type: Studio (15 profiles) and Merged (4 profiles)
Jim's Comments: "There's such a wide variety of modded-Marshall type tones available in this pack. Fantastic for 80's rock through today."
Please note: This is not the Slash Legendary Tones pack, but rather a wide range of tones from a great amp. For super-accurate Slash tones, look for the Slash pack in the Legendary Tones section.
Marshall AFD100 Background Info: The AFD100 is the Marshall Slash amplifier. The amp has two modes. The AFD mode emulates the sound of the hot-rodded metal-panel Super Lead used by Slash to record the first Guns N' Roses album. The #34 mode emulates his modded JCM800 used in later recordings. There are (5) 12AX7's in the preamp section and (4) 6550's for output power.
Customer Demo Videos
Top Jimi Enterprises, LLC is in no way affiliated with Marshall Amplification or Celestion International Ltd. Any mention of "Marshall", "AFD100" or "Celestion" is strictly for comparison purposes.