---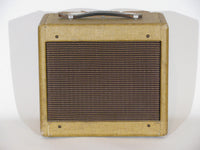 Top Jimi '60 Tweed Chmp Pack for the Kemper Profiling Amplifier
Seeking to Recreate the Sound of: 1960 Fender Champ (5 Watts)
Speaker Used During the Profiling Process: 8"
Min to Max Gain Range (Scale: 0 to 10): 0 to 6
Profile Type: Studio only (16 profiles)
1960 Fender Champ Background Info: The 5F1 Champ had the lowest power output and the simplest circuit for all of the Fender tube amps. The Champ had only one power tube, and the power stage circuit is, typically, single-ended and class A. Five watts and the simple, toneful circuit allowed the Champ to be used easily and often in recording studios.
Top Jimi Enterprises, LLC is in no way affiliated with Fender Musical Instruments Corporation. Any mention of "Fender" or "Champ" is strictly for comparison purposes.